I did not vote for Mar Roxas in 2016, not even for VP Leni, though I did vote for Kiko Pangilinan, Risa Hontiveros, and Leila de Lima, as I did for Bam Aquino in 2013. I didn't campaign publicly for any of them. In fact the only person I publicly campaigned for in 2016 was Neri Colmenares. Given short memories, it bears repeating that I was heavily critical of the Liberal Party government of Noynoy Aquino. I thought that there was an undercurrent of elitism with which the governance operated, and this revealed itself slowly but surely throughout the six years, in policies, in actions (or lack thereof), and often from the mouth of PNoy himself, sometimes of his Cabinet members. I thought it problematic that they equated social media noise and traction with public opinion; I thought they enabled entities like Rappler to earn from, build upon, false notions of wisdom-of-the-crowd. Information dissemination and transparency were fantastic though, and I miss it terribly now.
It seems like years ago, doesn't it? An administration like Duterte's can make us feel this way, with just a little over two years of suffering. This is a governance of chaos-by-design, of disinformation and lies, of destruction and distractions, of literal and figurative violence. It's exhausting to be critical because nothing is going right, and we are kept in the dark about what exactly is going on. Two years in and there's still no clear platform for governance, and certainly no clear vision. A constant: Duterte's rhetoric of violence and vitriol, half the time hyperbole, the other half lies, which we're told by his men we shouldn't take seriously. Other constants: incompetence from inflation to traffic to food crises; and Duterte's threats to leave his post, from letting a military junta take over to declaring a revolutionary government, to railroading charter change and federalism in Congress.
The current state of the nation is enough to build a campaign versus Duterte in the 2019 elections. We know that the more non-Duterte Senators and House Reps there are, the bigger the chances that the people will be represented instead of silenced in Congress, the lesser the chances of any anti-people Duterte law being railroaded. Those of us who might be critical of LP should know it's time to set those concerns aside for the bigger picture, the more urgent task.   
But alas, LP isn't making it easy. Days after Mar Roxas filed his certificate of candidacy for the Senate, LP started throwing around campaign statements like we're back in 2016. The same kind of elitism, the same kind of elitist discourse. This dumbfounds me because I can't believe no one is telling them (or maybe they don't believe?) that this was what lost them the 2016 elections.
Duterte won on nothing more than a populist rhetoric that was anti-elite and anti-elitist, and it was a direct response to LP and all that it stood for: the landed elite, the hacienderos PNoy and Mar. With that as foundation, Duterte's macho rhetoric, complete with rape jokes and chauvinism, killing and murder, was deemed forgivable by his supporters. He was their hero, speaking in the voice of the poor, taking on their issues with the rich. Duterte took class violence and ran with it, as he fashioned himself the oppressed class's hero.
The Roxas campaign, faced with this anti-elite, anti-wealthy, anti-haciendero campaign from the Duterte camp, didn't seem to lose a beat, or take the time to take stock and plan a counter-attack. If I were on their side, I would've insisted on a calculated response about how Roxas and LP were being fashioned as "the elite"; after all they had Robredo, Hontiveros, Pangilinan, De Lima on their slate — certainly that proved they weren't just about the old rich at all.
But instead of taking stock, the response of the LP campaign was to magnify the elitism. In the March 10 2016 debate, Roxas let lose this statement about bringing back "decency" as opposed, we presume, to Duterte's kabastusan. Sure it was in line with the first campaign jingle of Mar that talked about being "marangal, marunong, marespeto," but also it was a clear attack not just on Duterte but on his growing base of supporters. This, at a time, so close to the May elections, when they had all already been primed to attack, to magnify the call, to expand their base, with words as violent as Duterte's ensuring traction.
The surveys bear this out. March 2016 saw Duterte's survey numbers on the rise. If memory serves, his memes were on overdrive on social media, showing him fighting the powerful, guns (and whatever else) ablaze. The rockstar status was established, now he was just doing the nationwide tour. This was the month he said he didn't mind being a dictator, yet many celebrities and politicos started coming out in droves in support of him. Those who declared support for other candidates were bashed and threatened by Duterte's social media army, and any criticism was used as proof of Duterte's courageous pro-people, anti-mayaman, pro-nation stance.
Arguably, Roxas invoking decency galvanized Duterte's base even more. And it truly was downhill from here — Roxas's numbers bear this out until the end of campaign season, as Duterte's numbers were on a constant rise until May. Roxas's was mostly static, if it wasn't going down.
Yet they would not let "decency" as campaign slogan go. Closer to the elections, LP supporters built the hashtag #DisenteAko as the reason why supporters would vote for Roxas — never mind that it reeked of exactly the kind of elitism that Duterte's campaign lived for. Roxas's wife called the elections a fight between good and evil.
Of course there are many other reasons why Duterte won, including Rappler admitting that it was "particularly rewarding" to do stories on Duterte, i.e., "Rappler did everything Facebook recommended: Instant Articles, videos, Facebook Live. And it worked. 'I gave it all to Facebook,' Ressa said. Covering Duterte was particularly rewarding, since that tended to bring in traffic from Facebook in droves." But it is undeniable that a huge part of it was the populist rhetoric, and how it fed off the decidedly and unapologetically elitist rhetoric of the incumbent party.
That Roxas lost, and that LP continued to lose ground and credibility since, should be an indication that the elitism just does not work. Not anymore (if it ever did). Campaigning with that elitist voice, with sarcasm or condescension, and speaking down to voters does not get you votes. And yet today, this two-day-old tweet came out on my feed: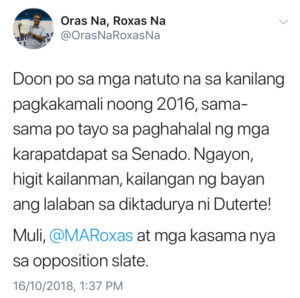 "Doon po sa mga natuto na sa kanilang pagkakamali"? Seriously? How about just starting things off with asking people who didn't vote for Roxas in 2016, to reconsider him this time around? Whatever happened to courting voters, telling them why and how a Roxas and LP vote is important at this point?
And then there are tweets like this: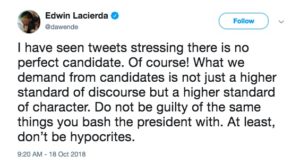 To say that this is reminiscent of the 2016 campaign rhetoric would be an understatement. And sure the context is now different, but that's even more reason to refuse public engagements that invoke "character" and "hypocrisy" because you will be called out — and not just by Duterte supporters.
And then just today, supporters started using #TeamPilipinas as hashtag to posting the "opposition coalition slate." For which the easiest response is: "What coalition, you're all from the same side!" quickly followed by: "No, no, your team cannot just lay claim to Pilipinas." (Let me set aside for this piece THE FACT that no opposition slate makes sense without Neri Colmenares.)
It seems LP needs to take stock and start with some humility: no, you do not hold any moral highground. Yes, your rhetoric is dominantly elitist. And yes, you can change that, because you need to. At the risk of repeating myself: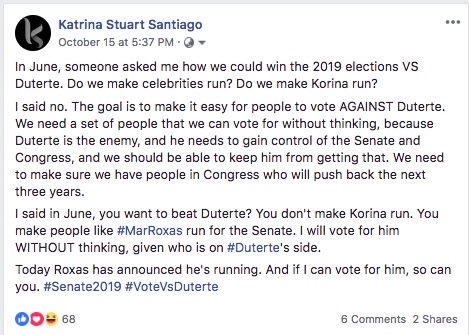 LP has fantastic Senatorial candidates on its slate that I wouldn't think twice about campaigning and voting for — Erin Tañada, Chel Diokno, Samira Gutoc. And yes, I will vote for Roxas, as I will vote for Bam.
But goodness gracious make it easy for me and people like me to do so, willing as we are to set aside our issues with LP because we know that the task is to beat Duterte. Stop reminding us of why we didn't vote for you in 2016. Stop speaking to voters like we're blind followers of either Duterte or LP.
Just please stop. Take stock. Plan the campaign. This is not as simple as good vs evil, disente vs bastos. You cannot be imagining that you're on a pedestal of any kind, and please do not invoke matuwid-na-daan — set that aside just like you have the color yellow (continue doing that please). Candidates like Tañada, Diokno, and Samira deserve a fresh campaign that isn't limited to or riding on the (failed) Roxas rhetoric. Allow them to fashion the Liberal Party into something that is beyond Roxas and Aquino, beyond elitism and arrogance, because all three of them are actually beyond the pettiness of 2016. Only then will we have a chance at winning versus Duterte.
And here's an important fact: anything less is like delivering the Senate to Duterte on a silver platter. ***